Laura's Links
Other Links of Interest
Revisiting Sardines
6/26/07
I thought the discussion about sardines was over. But the comments are still trickling in. Says Lucy:
...isn't it so incredible that people have responded so much to the sardine story, so very cute. Maybe people will get educated. Now I want to have my sardines w/tomatoes and onions for lunch.
Yes Lucy, I am enjoying the comments that I am getting. It's fun to think that people out there are actually reading what I have to say. And I'm so glad that you introduced me to sardines. I love them! But not all of the comments have been so positive. "A," who visitied the Aquarium of the Pacific last week says:
We went to the Aquarium of the Pacific and saw a great sardine exhibit. They look much better with their heads attached. I took this picture for you.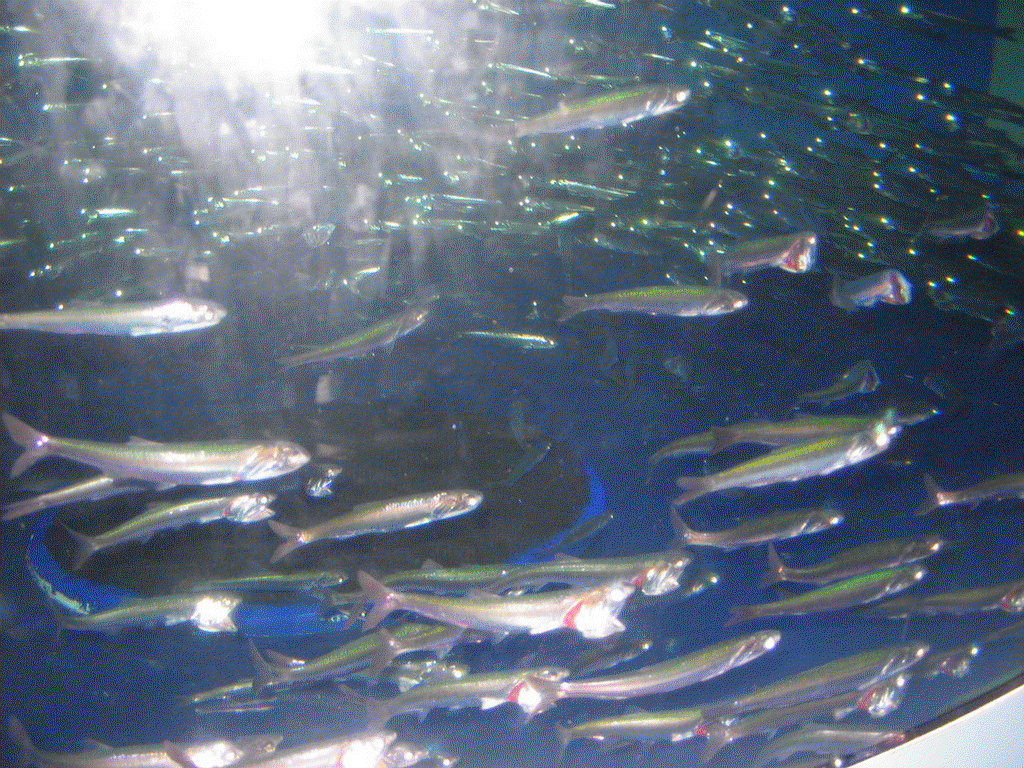 The one in the middle towards the bottom has its mouth open, perhaps in preparation to eat YOU.

I still don't understand how you could eat these sweet little things.

Feel guilty yet?

To which I replied:

No. Not guilty. Maybe a little bit hungry...
Comments A Day To Dye For
6/24/07


Last Saturday was The Greater Los Angeles Spinning Guild's (GLASG) annual dyeing party. No, not as in jewelry on headstones. Dyeing fiber!

This event, held every June in the home of Garen Tolkin, to my mind is the highlight of the year. We gather early, all in our grubby clothing that we won't mind staning. Permanently.




We all show up with food. Glorious food. Food fit for a king! The women and men of GLASG are not only artists with fiber. They know how to cook!




In years past, we've had all sorts of accidents. My first year, we lit a propane tank on fire. Then we all stood by Elissa's back door (across the yard from the tank), trying to decide exactly who was suicidal enough to run to the tank and turn the knob of the flaming torch to the "off" position.




Two years ago, we lit a pot on fire. Well, maybe that's a bit of a dramatic rendition, but we did light the wooden handles of the pot on fire.




Last year, we melted a table on which one of our Coleman Stoves was placed, pitching the giant cauldron of fiber and dye and boiling water on the ground. Nobody was hurt so we all had a good laugh.




So imagine how disappointed we were this year when the only thing we managed to break was one of Garen's potted plants. Garen, the perfet hostess, if she felt any emotion about the loss hid it well. "Throw it out," she instructed us. "It just came from a drug store, so don't worry about it." I adore Garen. I would like to be her someday if ever I could be good enough.




The day went on, joyfully for hours and hours and hours. Mariko graced us with exquisite salmon. I brought my beet salad. Elena brought Porto's pastries. Bad Elena! ;) Salads, tri-tip, lasagna, cheese-n'-crackers, fruit, brownies and cookies... There was no food group left unrepresented! Under the circumstances, I did very well. Heavy on the fish, salads, and fruit. Light on the dessert. Good me.




Both the disciplines of natural and chemical dyeing were represented. Some of us decided to relax and not dye at all, just socializing and working on other projects.



It's a safe bet that the tradition of the dyeing party will not die this year. It was a wonderful and relaxing day.